Denver Justice Co-Ed Basketball Team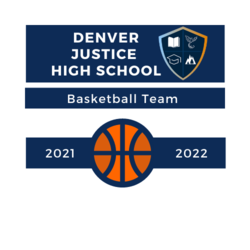 Our Co-Ed Basketball team will participate in a tournament at Ball Arena (Home of the Denver Nuggets) on December 6th from 1-5pm! 
Justice students can be transported over via the DJHS bus.
Athletes will have to maintain a passing grade during weekly checks for 5/6 classes in quarter 2/3 in order to participate. All athletes need to return the attached waiver in order to play. 
Denver Justice is historically a great basketball team placing every year in the Charter School basketball league. Denver Justice won first place for the Silver League in 2017-18 and third place for the Silver League in 2018-19.
Join us this year as we cheer on our Phoenix Basketball Team!