Denver Justice Co-Ed Basketball Team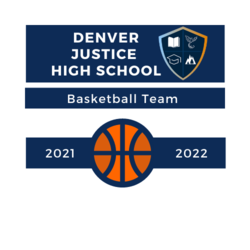 Our Co-Ed Basketball team will begin playing games at the Gold Crown Field House in Lakewood off of Alameda Avenue on Friday, January 21st! 
Justice students can be transported over via the DJHS bus.
Athletes will have to maintain a passing grade during weekly checks for 5/6 classes in quarter 3 in order to participate. All athletes need to return the attached waiver in order to play. 
Denver Justice is historically a great basketball team placing every year in the Charter School basketball league. Denver Justice won first place for the Silver League in 2017-18 and third place for the Silver League in 2018-19.
Join us this year as we cheer on our Phoenix Basketball Team!